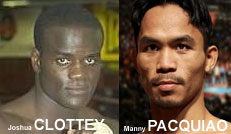 Do you remember Joshua Clottey? Yes, that's him. The boxer that is the last opponent of Miguel Cotto before the latter fight the people's champ Manny Pacquiao. Clottey lost against Cotto but he gave him a "fight" that made him to be eyed by the top rank promotions to fight Pacquiao this coming March 13. The
Pacquiao vs. Clottey fight
is scheduled to happen at the Cowboys Stadium at Texas. They'll be fighting in a 12 round welterweight bout. This match happens when the Pacquiao vs Mayweather failed.
Boxing Analysts said that Pacquiao will be surely having a hard time to fight Clottey since he has a very defensive style and outrageous counter punches. Of course, analysts still put their "bet" on Pacquiao since they believe that his power, speed and wit can still overcome Clottey's defense. Let see later if this happens or is this
Pacquiao vs Clottey
event will be one of the greatest upset for the champ.